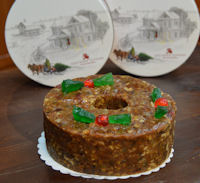 I've never given one, but in my lifetime, I've received 2 3. The first was years and years ago, and not very tasty, and the second was was from a place called Southern Supreme in NC https://www.southernsupreme.com/Fruitcake/products/1001/ and I loved it. The third one is pictured below that I just received a few days ago, and at 2 lbs. I can use that dang thing as a weight. (lol) Did you know a fruitcake that's stored at the right temp can last for an entire month, and even longer(up to 6 months) in your freezer?
This is a fruit cake from Carlie C's that I just received as a gift.(lol)
More and more people have stopped eating meat for various reasons, and sometimes you just need a quick snack versus an entire meal. So several restaurant or fast food chains are offering up meatless burgers and include Sheetz, Burger King, Cheesecake Factory, TGI Fridays, Red Robin(one of my fave burger joints), White Castle and Hardee's. But is that burger really all veggie
?
Vegetarians have the right to expect meatless meals as advertised, which includes not having their food cooked on the same grill as the beef is, and that's why Burger King is being sued. Is it truly vegetarian when food is cooked in the same beefy grease or oil? Stay tuned.
Do you have a favorite dog? Every year the American Kennel Club shares their list of the most popular breeds based on the annual registration stats. Here are their picks for 2018. You may be surprised to know that the Labrador Retriever is at the top of the list, and has been since 1991. Here's where everyone else stands.
1. Labrador Retriever
2. German Shepherd
3. Golden Retriever
4. French Bulldog
5. Bulldog
Lynn's Sick Brownie Bites
( Friend of Valerie Bertinelli from the Food Network 2012)
Ingredients
Directions
Heat oven to 375 degrees, then coat 8" square baking pan with cooking spray. In a medium bowl, stir together the crumbs, coconut, walnuts, condensed milk, chocolate chips and salt. With a spatula, press the mixture evenly into the bottom of the pan. Bake until the chocolate melts, and the top is golden brown, about 15-20 minutes.
With a spoon, stir the hot mixture in the pan until all the chocolate is incorporated, the press the mixture back out to the edges. Set aside on rack until it's cool enough to handle.
Spread confectioner's sugar on a late, then scoop out the brownie mixture by the tablespoonful, and with your hands, shape into balls. While still warm, gently roll each ball in sugar to coat. These can be stored in a covered container for up to 2 days.
At approximately 5400 feet deep, Lake Baikal in Russia is considered the deepest freshwater lake and also the oldest in the world.
The pure and clear water make this beautiful lake safe enough to swim in, and if you're a fisherman/woman, you'll love it because there are lots of fish there that can't be found anywhere else in the world. Even though it's located in the southern portion of Siberia, which is slightly warmer, bring your mittens, thermals and earmuffs because the average temperature is about -6 degrees F!
Times sure have changed. In 1960, there were 4.3 million births and 1.7 million deaths. Fast forward to 2018 where there 3.8 million births and 2.8 million deaths!
Almanac 2020
The top three states in the US with the highest percentage of divorce and annulments as of 2017 are
1. Nevada - 4.5%
2. Oklahoma - 4.1%
3 Wyoming - 4%
So now you might be wondering which place has the lowest rate, and that would be Illinois and Louisiana who tie at 1.9%.
Ironically, Louisiana, Oklahoma and Nevada are also at the top of the list for male on female violent crimes.
Have you ever watched Let's Make A Deal? The first show came on in 1963 with Monty Hall, and the final show aired in 1976. The fun started again when Wayne Brady took over in 2009, with the added bonus of winning extra cash by following the show on Twitter. It's so fun to see the different costumes and prize wins. By the way, just in case you didn't know, Brady is the most recent winner of one of my favorite shows - The Masked Singer.
Wayne Brady disguised as The Fox
It was cool to win this award from my good buddy Lissa of https://thememoryofrain.blogspot.com/ , and it's true that occasionally I forget to blog because I start working on other projects. (lol) She's one of the sweetest people I know. Thanks Lissa!
Thanks and plenty of hugs to Sophia from
http://delightedreader.com/review-blitzed-by-alexa-martin/
,Elizabeth from
http://alteredbooklover.blogspot.com/
, Adria from
https://adriasromancereviews.blogspot.com/
, Angela from
https://simplyangelarenee.blogspot.com/
and Sandra from
http://sandracox.blogspot.com/
These ladies are proof that blogging brings about real life beautiful friendships and fun, and I thank them so much for their gifts, laughter and support over the years.
Thanks Adria - knows I love my planners!
Thanks Elizabeth - knows I love handmade cards and McDonald's! Isn't her tree great?!
Thanks Angela -knows I love chocolate, handmade cards and books!
Thanks Elizabeth - knows I love Martha Stewart!
Thanks Sophia - knows I can never have enough Washi Tape
Thanks Elizabeth - yay to more Martha Stewart!
Thanks Sandra - a personally signed western love story is so awesome!
Wanna earn some extra cash, and start a new life? Grab your stuff and head to Topeka Kansas, where they're offering up $10,000 to renters and $15,000 for home buyers who move there.
Act fast, because the Choose Topeka Program is only offering this deal to 40-60 people as they try to boost economic development in that city.
You can also save money on that person who has everything by buying gift cards at a discount. Use www.cardpool.com, cardcash.com, giftcards.com, raise.com, www.plasticjungle.com and giftcardgranny.com.
If you're like me and have been eating a few too many goodies this season, British researchers say we can burn calories by relaxing for an hour in a warm bath, burning as many calories as we would on a fast paced walk. Why does this work? Apparently, sitting in that tub raises our body temp with passive heating. The optimum heat should be consistently at least 104 degrees while bathing, but you'll still see some results with lower water temperatures.
Also, according researchers at the University of Massachusetts Medical School, adding just 30 grams of fiber to your diet and changing nothing else, can cause you to lose weight.Well that's a BIG yes for me
!
Technology is great and we continue to grow which I can appreciate, but I can't help but wish we still had old school options. There are still plenty of people around in the world who don't feel comfortable using computers, and would prefer to fill out an application the old-fashioned way - you know, on paper with a pen. Some prefer to use cash instead of a debit or credit card. Without computer skills, many people are frustrated because they miss out on benefits, jobs and deals, and no one has the patience to help them. Does everything have to be computerized? Can we still have the old fashioned stuff available for those who don't want to use technology? Have we gone too far to turn back just a little? Here's to you, Cher.